Updated March 3rd 2019
March 3rd 2019 Update on Peter's Curcumin Trial Details Here
February 28 2019 New articles from Daniel Shockley Details Here
January 15th 2019 As a lasting tribute to John Roberts (1941-2018) our Verona Article on 'The Role of a Patient Association' is now available as a PDF file Download Here
November 21st 2018 We are saddened to hear that John Roberts our Chaiman for many years recently passed away
There is a new link to a free download of the booklet Mick's Genetic Journey.
Facebook Page - The FAP Gene Support Group now has over 500 members
March 9th 2018 Our founder Mick Mason received a "Champion of Hope Award"at the Genetic Disorders UK Awards Dinner at The Amba Hotel in London. Attended by 180 guests of various charities and organisations this was for his lifetime dedication to The UK Genetic Disorder Community. His thanks go to all members who over 15 years have helped make the group such a success.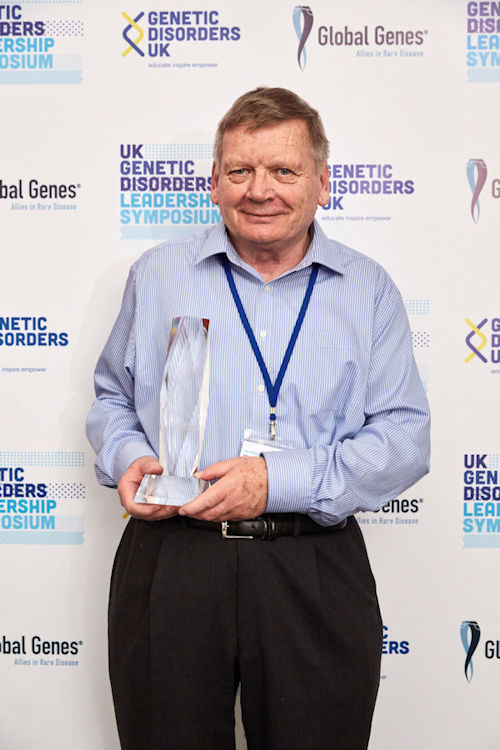 January 2018 Update on Peter's Personal Curcumin Trial opens in new window
September 2017 Genetic Test Interviews for Manchester/North West England opens in new window
Series of 6 Videos on Genetic Testing for Various Bowel Cancer Genes
From Bowel Cancer UK Link to their Website Videos opens in new window
We have Peters annual update on his personal Trial with Curcumin Details Here
October 2016 New Survey Family Web Study Details Here
October 2016 Newsletter Download Details Here
New FAP Gene Support Group Facebook Group Details Here
Postponed June 21st 2016 Walking The Yorkshire 3 Peak Challenge Details Here
Sept 19th our 2015 8th Annual Chat Day Photographs Our Page
Aug 28 New Leaflets Available E Mail with Address
September 14th 2015 New FAP Support Group Leaflet
Available to view in PDF Format
June 22nd 2015 Podcast raising awarness of FAp in Hawaii Our Page
May 14th 2015 Plymouth Musketeers Running Club Fundraiser Our Page
April 9th 2015 Details of USA Desmoid Tumour Trial Our Page
April 4th 2015 Australian Facebook link repaired Our Page
March 17th 2015 New trial for Patients with FAP Our Page
March 13th 2015 New E mails from Daniel in Hawaii Our Page
2nd October 2014 Helen gave a very relaxed talk at The Chat Day about her Bowel Transplant.
August 21st 2014 Our best wishes to Helen who has had her bowel transplant surgery in Oxford UK and after 5 weeks is now recovering at home.